September Newsletter – Declines in Median Household Income and the Long-Term Impact on Investment Returns
Three Month Rally Moves Domestic Stock Returns to Double-digits for 2012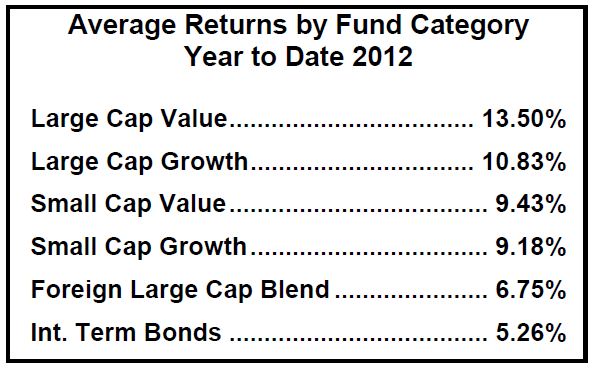 The 2% gain in the S&P 500 in August pushed the returns for large cap funds above the 10% mark for 2012.
Foreign stock funds continue to lag, returning less than 7%. Surprisingly, bond funds continue to do well in an environment where interest rates have fallen to unsustainably low levels.
Risks remain extremely high – A cautious investment approach is more appropriate than ever in this environment.
How Important are Social Security Benefits?

The five "pies" each represent an income quintile – to get income quintile, you line up every household in America that is over 65 from poorest to richest and divide them into five groups of equal sizes. Social Security is a significant part of income for elderly households.
Source: Social Security Administration. 2012 Table 10.5-Percentage of aggregate income of aged units from specified source, by marital status and quintile of total money income, 2010. Income of the Population 55 and Older, 2010. http://www.socialsecurity.gov/policy/docs/statcomps/income_pop55/2010/sect10.html#table10.5
Declines in Median Household Income and the Long-Term Impact on Investment Returns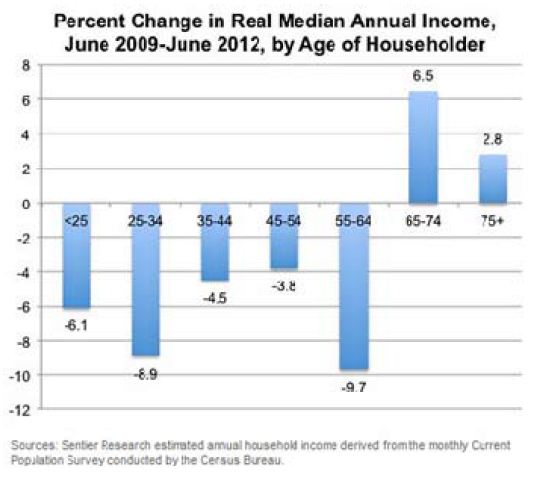 Declines in real median annual income over the last three years have impacted all pre-retirement age groups.
We need to keep in mind what this means for the investment returns we can expect from our retirement portfolios over the long haul.
Consumer spending has consistently accounted for 70% of total Gross Domestic Product. It naturally follows that lower income at the household level has led, and will continue to lead, to lower levels of economic growth, corporate sales, earnings, and profitability, which, in turn, will generate lower long-term portfolio growth.
CFA Institute Integrity List:
50 Ways to Restore Trust in the Investment Industry
Following the 2008 financial crisis, and on the occasion of the Chartered Financial Analyst Institute's 50th Anniversary, they published the Integrity List; 50 ways to restore trust in the investment industry. Last month, we offered up the first ten, here are numbers 11 through 20:
11. Encourage young professionals to have the courage to disagree.
12. Keep client fees fair.
13. Be transparent with clients when something goes wrong.
14. Actively disclose all compensation arrangements to clients.
15. Lead by example with your firm and colleagues.
16. Write articles and speak publicly about ethics.
17. Act with fairness and prudence with every decision.
18. Present analysis based on facts and client needs.
19. Always be honest with clients.
20. Never overlook unethical behavior because you're better served by ignorance..