Draper, Inc. Wins 2014 PlanSponsor of the Year by PlanSponsor Magazine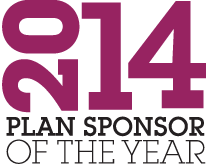 BeManaged is honored to be the advice provider for the Draper, Inc. retirement plan, which won the 2014 PlanSponsor of the Year for plans <$50MM. Draper's diligence and commitment to the success of their participants is impressive and it is great to see them recognized for their efforts. We would like to note that utilization numbers listed in the article are lower than actual results (143 enrollments, 32.8% utilization). We are humbled to serve Drapera and their employees as a part of their participant success strategy.
The following is the article from PlanSponsor:
Total plan assets/participants: $24.5 million/516 participants
Participation rate: 93%
Average deferral rate: 8.25% for HCEs*, 5.22% for NHCEs**
AVERAGE REPLACEMENT RATE RATIO: 80%
Default deferral rate: 4%
Default investment: Fidelity Freedom Funds
Match: 25% of first 6% *Highly compensated employees; **non-highly compensated employee
Looking at employees' health holistically is second nature for Draper, Inc., a manufacturer of projection screens, window shades and gymnasium equipment. Not only has the company been honored as the healthiest company in the state of Indiana by Healthiest Employers LLC last August, but in January it topped the list of 100 companies recognized by Healthiest Employers, a national organization dedicated to helping improve the wellness of American workers.
In the same vein, Danny Thomas, the human resources (HR) generalist in charge of the 401(k) plan at Draper, thinks about the financial health of the company's retirement plan participants: "We have a great 401(k) plan design, but how do we help employees truly know if they are on the right path?"
Draper has had a solid participation rate of 93%. The firm offers a 25% match on the first 6% of salary an employee defers, matched on a weekly basis. But even through Draper utilizes automatic enrollment, when an employee is eligible to participate in the 401(k) plan, Thomas demonstrates the personal touch deeply rooted in the company culture. He has a one-on-one meeting with each employee, during which time he signs up almost everyone and talks with them about the features of the plan and how the website works. "Having me spend so much time with employees is very valued and important to the owners of the company," he explains.
Of Draper's 516 employees, 316 work in the plant. "We do a lot of hand-holding," Thomas says. "If you look at our manufacturing side, quite a few of our employees don't have computers, or if they do, they don't use them much. They are just not comfortable making plan changes on their own, so they reach out to somebody. I'm the contact person and someone they seem to trust. "
Early Adopter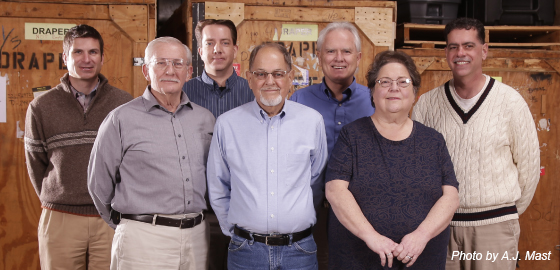 Tom Sartoris, Cincinnati-based managing director of relationship management at Fidelity Investments, and Draper's recordkeeper contact, says one of the firm's strengths is that the plan committee is very methodical. "We're always reviewing industry trends and capabilities, and they've enabled quite a few of these services," he says. For example, Draper added auto-enrollment to its plan design in 2007 and was an early adopter of managed accounts, beginning with Fidelity's Portfolio Advisory Service (PAS) in 2007 and expanding managed account options with BeManaged, an independent adviser, last year.
One of the reasons Draper decided to add automatic enrollment to its plans was to help with the company's failed attempts to pass nondiscrimination testing—something it has been concerned about and is working hard to address. In 2008, Draper hired adviser Jeff Prince, of ProCourse Fiduciary Advisors in Indianapolis, to assist with plan oversight: monitoring expense ratios, creating and maintaining a diversified investment lineup, and incurring the least expenses possible, in addition to helping address the discrimination-test issue.
Almost immediately, the company added auto-enrollment, Prince says. Although those design features have not solved the discrimination-test problems, they do make the deficiencies smaller, and Draper went from a failure rate of 1.26% in 2009 to a projected failure rate of 0.86% in 2013.
From Draper's vantage point, testing has been used to fuel the fire, Sartoris says, as far as looking at ways to continue to enhance the plan and get to a point of mitigating—if not eliminating—any failure in its compliance testing.
"While [Draper] continues to struggle with it from a pass/fail perspective, the metrics are improving, which means it can still be failing, but it's not failing as much. With some of the features it has enabled, such as auto-enrollment, it has put a big dent in it," Sartoris says. "With its implementation of automatic increase in 2013, the benefits will be realized in 2014. [This] will provide a year-over-year benefit and, with that feature being in play, should provide additional dividends."
New Resources to Help Employees
When reviewing the plan, Thomas says, he realized there was no way to answer questions participants had about investments or income replacement. "We knew there were a number of employees who had signed up initially in the plan but probably hadn't looked at their accounts for a number of years," he says. To address this, Draper sought out resources that would help participants examine their retirement projections as well as their overall financial health.
In 2012, for instance, Draper sent out a request for proposals (RFP) for participant education programs, reviewed the results with the committee and brought in BeManaged, a participant advice fiduciary, to discuss the managed account and advice program offered through its Do-It-For-You Portfolio Management service. Once employees got to the point that they could save, Draper wanted to help answer their question of where to put that money. "We wanted to use BeManaged as another part of the process and have an actively managed account with participants on the right path," Thomas says.
Draper hired BeManaged early last year. The adviser is able to access participants' accounts at Fidelity Investments and rebalance their portfolios. Participants interested in a managed account solution can still choose between the new adviser or the legacy Fidelity PAS option. Twenty-one percent of the employee population—106 people—enrolled in the BeManaged rollout. Eighty-six increased their deferrals; 78 activated annual automatic increase.
Although participants were saving in the 401(k) plan, Thomas notes that many also used their savings to take hardship withdrawals because they lacked sufficient emergency funds and the plan has no loan provision. "Over the years, our education programs have been focused on the retirement side of the world, so I looked into a program that [considers] overall financial stress on employees, as part of our company wellness initiative," he explains.
After finding one, Thomas took it to the owners and explained how he thought it could help lower stress levels. The safety and wellness director and chief financial officer (CFO) approved it, and Draper introduced the Dave Ramsey CORE financial wellness program to employees; about 20% of participants have now completed it.
The eight video lessons give participants steps for building a strong financial foundation. Employees could take the program through classes Thomas offered at their offices or could access it online with licenses purchased by Draper.
"It was a way to help employees get over their stress and make sure they are on a path to financial freedom," Thomas says. It helps identify where they need to save and what steps they need to take, but it does not offer retirement planning.
"Once employees get to the point where they can save, BeManaged is another part of the process that they have access to," he adds. "Ultimately, this gives them the ability to be better prepared for retirement."
—Judy Faust Hartnett