Ignore Generic 401(k) Guidance Posed as Advice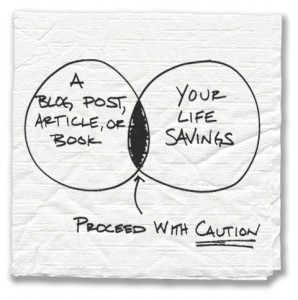 Our friend Carl Richards wrote yesterday on this subject at the NYTime.com Bucks blog, and it is very good advice. We have seen people follow guidance from the likes of the Jim Cramers, Suze Ormans and Dave Ramsey (though we are big fans of his debt reduction advice), which more often than not steers people into an inappropriate portfolio. Many 401(k) providers will even provide some general guidance as well, but they leave investors to figure out the ideal recipe (asset allocation) to create from their plan's ingredients (investment options). Understanding some basics such as age and your prospective time horizon for retirement are easy, but understanding your risk tolerance can be tricky. Additionally, here is an easy way to distinguish general guidance from specific, personal advice:
Advice will tell you specifically which funds in your 401(k) plan you should be invested in as well as what percentage. Guidance only speaks to the types of investment options.
The following are some key excerpts from the Bucks blog post by Carl Richards:
It is dangerous to mix investing with entertainment. The classic example is thinking that Jim Cramer is your investment adviser rather than some sort of circus clown.
But what can be even more dangerous is taking what's meant to be general financial information and acting on it, without first taking the time to figure out if it applies to your particular situation.

Making important decisions about how to invest your life savings seems to be getting more and more complex as the amount of information continues to grow.

Take this article, "A Market Forecast That Says 'Take Cover,'" that appeared in the The New York Times this weekend. It offers up advice from a market watcher who suggests that individual investors "move completely out of the market and hold cash and cash equivalents, like Treasury bills, for years to come."

The article has been among the most e-mailed articles for several days, so it's clearly getting a lot of attention. But the question is what you're supposed to do with information (general advice) like this. Should you follow this advice to "take cover," regardless of your age, unique goals and family situation?

The financial press, personal finance bloggers and best-selling authors are all sources of information. But don't confuse information with the real work of figuring out how it applies to your very unique situation. I know many of the best personal finance bloggers. As good as many of them are at providing a filter for information, and even providing general rules of thumb, you are the only one who can figure out how it applies to your life.

The reason is simple: planning for your financial future is personal. It has to be. A good plan will be unique to your situation, and what is right for your situation may be a disaster for your neighbor. So read as much as you want, but then make sure you spend the time to figure out how it applies to you before you make important decisions about your life savings.