Market Forecasts, a.k.a. Market Guesses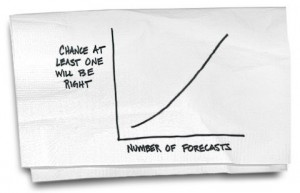 Soothsayer. Prognosticator. The illusory crystal ball. The market forecasts that are lauded by the media…whose goal is to sell advertising…are simply speculation. We have told investors since day one that no one truly knows what the market is going to do by the end of the week, month or year. If you meet someone that claims they do…run…in the oppositive direction. Fast.
As the article by our friend Carl Richards illustrates, given enough opportunities and guesses, even I can tell you on which number the roulette ball is going to land.
With very few exceptions, market and economic forecasts are really nothing more than guesses. But as we continue to reckon with an uncertain economic future, it is more tempting than ever to seek out a guru. We want someone to tell us what is coming so we can plan accordingly.

As you read these forecasts here are a few things to keep in mind:

1. No one knows what the future holds. History doesn't really help except to tell us that it's hard to forecast accurately.

2. If people make enough guesses, they are bound to get at least one right.

3. If you nail a big guess as a market forecaster, you can milk it for a long time. Think of all the people that have come out of the woodwork claiming to have forecast the collapse of 2008. Sure a few of them actually did get it right, but the dilemma for us is trying to figure out if they got it right based on skill or if they were just lucky.

4. Forecasters who got one big guess right might not be right the next time. In fact, the process they used to diagnose a problem in the past might increase the chance they will be wrong in the future. After all, the next big problem probably will not look like the one in the past that they managed to spot.

Just to be clear, I'm sure that there are thoughtful economists that provide useful insight. I just don't know of anyone that can reliably tell me who they are. So little history, and so many guesses.

Next time you are tempted to make very important decisions based on the latest guess by the media's current favorite guru, remember the old saying that even a broken clock is right twice a day.