Posts Tagged '401k advice regulation'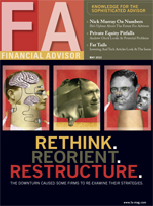 In this month's F-A Magazine, BeManaged was featured in the article titled "Better Laid Plans," which is focused on how companies around the nation are answering the call for 401(k) advice. It was a privilege to be included in the article, but there is a key point we would like to correct about how we operate.
We do NOT control the investor's contributions. The participant is ALWAYS in complete control, we simply provide encouragement and strategies for how to increase those contributions.
Read More